Impact Your Mission
Using a Website Built for SEO
RankMonsters Web Design includes full web design services, SEO, and user optimization. Whether you need a new site or an update to your current design, your website will always be crafted to rank in organic results, convert visitors from paid campaigns, and engage with social traffic.
An innovative, up-to-date design that looks great on desktop, mobile, and tablets.
Quality development. All websites are built in WordPress/DIVI using proven WordPress plugins.
Your choice of beautiful custom images created specifically for our websites.
Full On-Page Search Engine Optimization (SEO).
Save time and money by getting a website designed by a firm that lives and breathes SEO.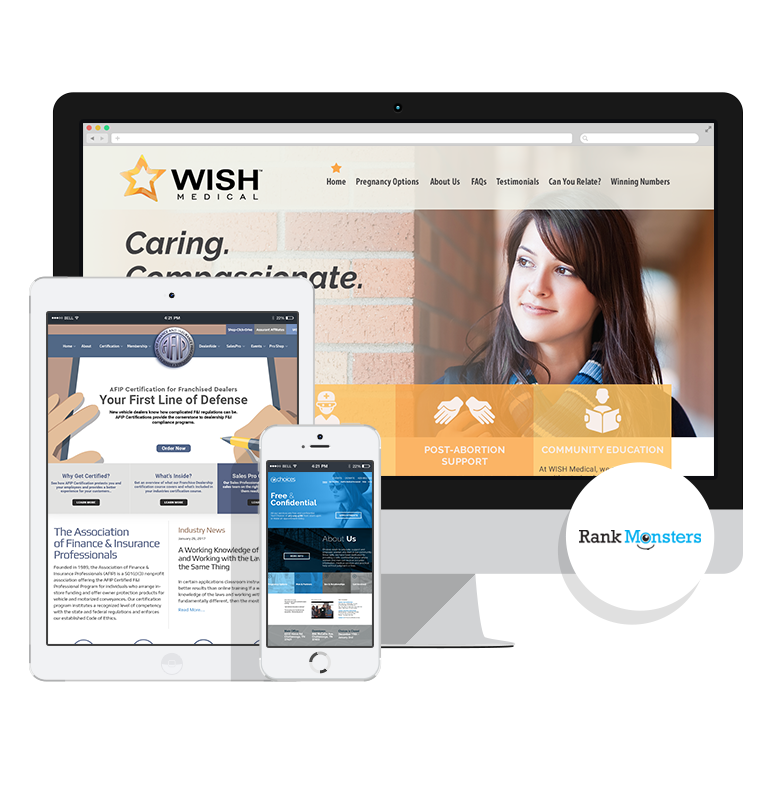 Website Design and Free Estimate
We create custom-built WordPress websites using the Divi theme
Each project differs in scale and difficulty.  A website could only be five pages long, but each of those pages could be incredibly long or be complex from a coding standpoint, while a fifty page website could be substantially easier to re-create in WordPress. 
All of these factors combine to influence the cost of a website design.  If you're interested in rebuilding your website to be fully optimized for SEO and reaching more people online, contact us using the form below for a free estimate!
Website Hosting
$50 monthly fee/per website
Linux/Apache Web Server running cPanel for site-level management.
Development
We are qualified and experienced WordPress developers and have built dozens of sites for businesses and nonprofits. We work in WordPress because it is fast, capable, and easy for customers and clients to use. It's also easy for your team to use, so you and your employees can make changes to your website yourself.
We should also note that when we develop your website, it is yours to keep. Other web developers use proprietary themes and elements that they retain control over, even after you cancel your services. But when you work with RankMonsters, you retain control over every part of your site – even if you choose not to work with us.
Content Creation
Our content developers work with your team to create and update your website content so it meets your standards and ours. We design your content to perform well with readers and search engines. You'll also have the opportunity to review everything we write before we post it. This ensures you're happy with your content and that it reflects your values.
Search Engine Optimization (SEO): On-Page
We design websites to be SEO-friendly from the start. This includes:
handle server level redirects
download current sitemap and create 301 redirects (important when launching a new site)
Create new sitemap and submit it to Google
Title Tags: create page titles that incorporate target keywords. Page titles under 60 characters with optimized keywords.
Meta Descriptions: create page descriptions that will yield a high click-through-rate and incorporate target keywords. Meta descriptions under 300 characters with optimized keywords.
Optimize Images: add ALT text and title text to images to provide search engines with useful information about the subject matter of the image.
Set Up Reporting Tools: install Google Analytics and Webmaster Tools and make sure it is set up correctly for the data we want to receive. This includes setting up goals to help track and measure conversions.
Training
Not a web expert? No worries. We can provide you with expert education and training for using your new site. Whether you want to add content, change pictures, or even create whole new pages, we'll happily show you the way.
Website Hosting
Transfer site to our hosting service
Unlimited disk space & bandwidth
Monitored security
SSL Certificate
Regular website backups
Monthly updates to core of WordPress
Monthly plugin updates (WordPress plugins)
Server speed optimization
All SEO requirements for the server (minify css, optimize images and other tasks to improve performance)
Reporting
We will create a report for you using Google Data Studio, a cutting-edge reporting tool that makes life easier for you when it comes to viewing and understanding your reports.
You can access your reporting at any time by following the link that we will provide to you.
Reporting is real-time (within 2 hours).
Customizable date ranges, allowing you to view all of your data in one place.
We will create conversion tracking on your website and import it to your report.
You will be able to clearly tell which Internet Marketing efforts are working and which are not.
Timeline and Terms
We are estimating an 8 week timeline from start to launch, with the initial website design and layout to be completed within 4 weeks. At that time, the development website will be sent to your team to review and provide edits. Once we receive your feedback and edits, we will make those adjustments and then complete the On-Page SEO tasks.
50% of the design fee is due at the beginning of the project and the remaining 50% once the website is launched and live.
We are excited to work with your organization. Please complete the form below. We will contact you within 24 hours to get started.