RankMonsters is passionate about working with nonprofit organizations. We enjoy being a small part of your mission; it truly gives our internet marketing efforts purpose. One of the reasons we enjoy working with nonprofits, specifically in obtaining and managing Google Ad Grants, is because we are able to make a significant impact at a low cost. RankMonsters is also a full-service Internet Marketing Company, which means we're able to strategically improve every facet of your nonprofit's campaign including targeting, ad copy, landing pages, and the tracking of meaningful conversions on your website. As one of the 45 Google Ad Grants Certified Professionals Worldwide, you can be sure our work is high-quality and recognized by Google.
We Specialize in Google Ad Grants Management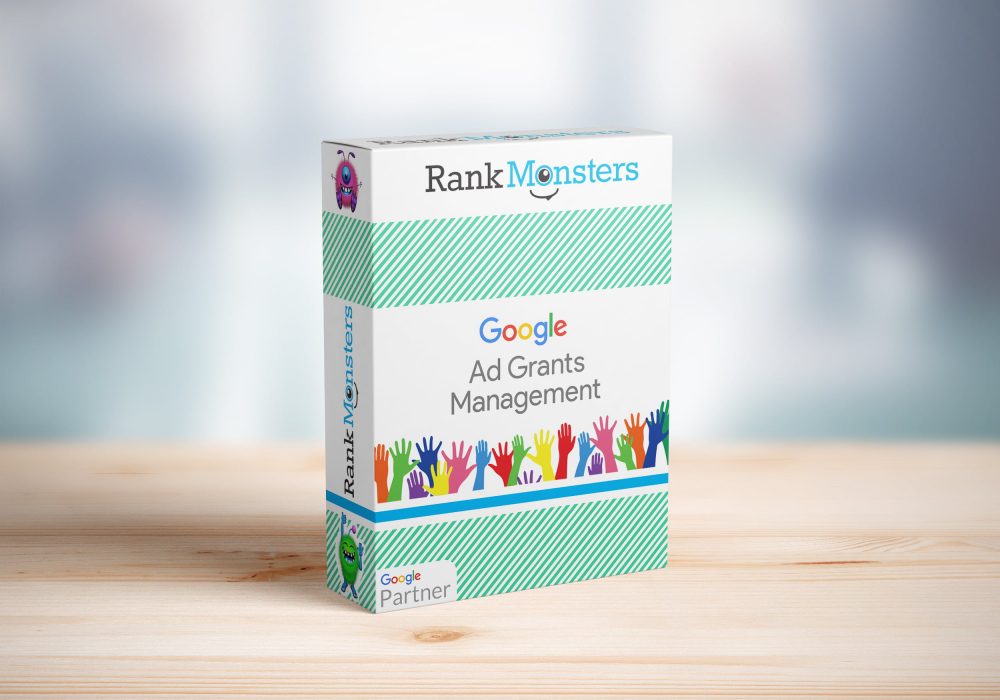 Ad Grants Management $399/mo
Ad Grants is part of the Google for Nonprofits initiative. This special program gives nonprofit organizations access to $10,000 monthly in free Google Ads. As one of the 45 certified agencies Worldwide, you can be sure our work is high-quality and recognized by Google.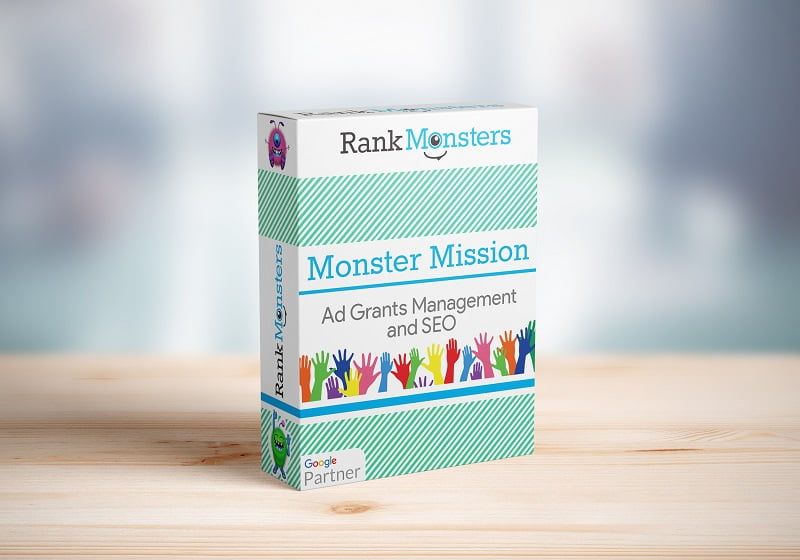 Monster Mission $699/mo
Best results! Monster Mission is our best seller and our comprehensive strategy for getting amazing results with meaningful conversions. This package includes Ad Grants Management and SEO services. Maximize Ad Grants and DRAMATICALLY improve your organic traffic.
"Here on purpose for a purpose"
We Care
Our team is composed of individuals who are passionate about nonprofits. We make it our goal to help your organization succeed in your mission and core values, whatever they may be.
We Deliver
We provide full-service internet marketing solutions for organizations of every size. We work as an extension of your team to design and carry out the best solutions to help your organization achieve its online goals.
We're Creative
We work to discover new opportunities to connect with your target audience online. Whether it's doing keyword research, creating content, or solving problems, we'll work with you to create a customized marketing plan for your goals.
We're Certified
We're a Google Ad Grants Certified Agency skilled at maximizing results with the Google Ad Grants. As a Certified Agency, we have the experience and training your organization needs to succeed online.
McAllen Pregnancy Center
17:52 11 Mar 21
Definitely Rank Monsters was the best option we could ever get to improve our center. They created for us a brand new website, and helped us get the

...

most of the tools needed to reach more clients. We saw a dramatic change in our center's reviews, appointments, etc. We can say that with Rank Monsters there's a before and after.

read more
Jeremy Lack
15:18 03 Mar 21
Working with Rank Monsters has been great! They are very professional and quick to respond to any questions that I might have. I would highly

...

recommend Rank Monsters to any business looking for a company to handle their internet marketing.

read more
As a non-profit, we are always operating on limited resources. For two years we s struggled to get the ad grant engine to work, and more than a few

...

very smart people tried. Finally, Rank Monsters, with their acute understanding of how the ad grant engine works and how to overcome its limitations, was able to get traction for us and help us get our messages out! Highly recommend them! Great team!

read more
Matthew Davis
21:23 08 Jul 20
We are clients of Rank Monsters and are stark, raving, loony fans! We vetted twelve agencies and theirs was the only proposal that made sense both in

...

transparency and pricing. Then the delivery and customer service after we signed on.... wow, just wow!

read more
Matt Russell
20:58 25 Mar 20
Working with the Rank Monsters team is seriously incredible. I had been stuck on some SEO and Google ad items for awhile. They stepped in and helped

...

me out of my rut. They took the time needed to troubleshoot my site and give expert advice for a long term strategy. Seriously, if you are on the fence about consulting, SEO, Google ads, drop them a line! You won't regret it!

read more
Peter Stancato
19:23 06 Dec 19
They're incredible. They make the complicated simple. And that's exactly what I need as a business operator!