A new year is right around the corner, and you probably want to increase your business's revenue over the next 12 months. One of the best ways to grow your sales is to improve your presence online. GE Capital found in a study that 81% of consumers research products and services online before buying. If your website doesn't show up in their searches, they won't consider your business.
Fortunately, there are some things you can do to improve your website's visibility and get more notice, and more sales, from your website. They make take some time and some effort to do, but you'll definitely see the benefit if you do them right. So let's learn how to increase site visibility in the New Year.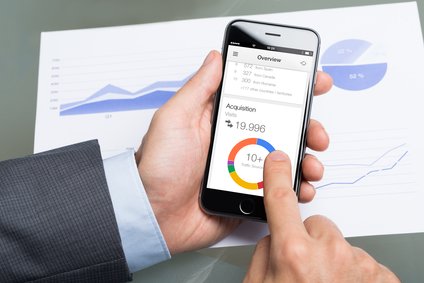 Build Out Your Site – More Pages, More Content
One of the best ways to get more visibility online is to make sure your site is worth visiting in the first place. Building out your site with more content is a great way to ensure your site is meeting the needs and desires of customers.
Instead of a website with a single page, break down your site into multiple pages with their own topic or theme. For instance, your website's home page should be a general introduction to your business, while your "About" page can be a more detailed history of you or your work. Other good ideas are product pages for the different products or services you offer; a contact information page that includes a map of your location; or a page that gives the answers to frequently-asked customer questions.
In general, the more pages and the more content your site has, the better it will rank on Google and other search engines. Note that you shouldn't create irrelevant or meaningless content – only create new pages or new text when you have something real to say. If you want some ideas on how to create deep, meaningful content for your site, check out our blog post on content creation.
Start Blogging More
Along with adding information on new pages, another way to create content and engage your customers is through blogging. You might think of a blog as an online journal, but it's much more. Used properly, blogs are a great way to increase your online visibility and establish yourself as an authority in your niche.
Unfortunately for new bloggers, there is a lot of conflicting information on the web about what makes a blog good versus bad. Information about word count, image placement, posting frequency, and post structure can frustrate even seasoned writers. However, all blogging advice centers on one major point: your blogs have to be useful to readers.
A good blog post either answers a question or presents new or useful information about your business to the reader. For instance, a service company like a roofer or plumber might blog about new products or even make posts about specific projects. A retailer might do reviews of their goods or talk about new product releases. A craft store could feature projects they made with their own products. Every niche has an interesting way to feature the business – you just have to find yours and explore it, then write it up for others to see and share.
Your ultimate goal with your blog should be to add value. This refers to both adding value to your site and adding value to your readers. Create something valuable and it will have a much higher chance of achieving visibility and success.
Engage with Followers & Customers
Social media has changed the way websites do business. It's not enough to offer a good product. You also have to be responsive to people talking to you, or about you, online. Social media platforms like Twitter, Facebook, LinkedIn and Google Plus are great ways to interact with your customers. However, you do have to tread lightly.
Your first goal should be to create profiles or pages on social media networks and build your profiles. Add pictures, company information, and other details until your profile is not just complete but comprehensive and attractive.
Once you've built your profiles, it's time to start engaging with customers. The best way to do this is to cultivate a presence on social media profiles by using them regularly. Post your blog posts and any other relevant content to your Facebook, Twitter, and other profiles. Don't use them as personal spaces – keep your posts tied to your business as much as possible.
Another way to build interactions with customers on social media is to run promotions or contests through these profiles. You've probably seen business offering gift cards or special deals for people who like their posts or follow them on Twitter or Facebook. There's a reason these promotions are common – they work. Every time you get your audience to engage with you online, you build it out a little bigger. Over time (and with plenty of regular curation) you'll find yourself with a large and attentive audience.
Get Reviews
Besides social media profiles, online listing sites like Yelp, Google Maps, Foursquare and Angie's List are one of the largest ways customers get information about companies online. These sites let you build your own profiles, but they also collect info from customers in the form of reviews. More importantly, though, these review scores then show up on search result pages on Google and Bing. A business with lots of four- and five-star reviews looks much more trustworthy than one with one-star reviews or no reviews at all.
The first step to getting reviews online is to build out your local citation profiles. There are plenty of sites that offer reviews for businesses. Some of the biggest are the ones we already mentioned. Yelp, Google Google My Business, and Angie's List are big players, as are directory sites like Yellowpages.com. You'll need to claim your business profile and build it out much the same way as you did your social media profiles before. You can learn more about local SEO and profiles in our blog post about local SEO and reviews.
Getting reviews from customers can be tougher, especially if you're in a competitive niche. It helps to link your local profiles to your main site so that customers know where to go to leave you a review. You can also send out requests to review your services to previous customers if you collect their emails or phone numbers during business.
One tactic to shy away from, however, is incentivizing reviews. Unlike promotions on social media, offering incentives (like coupons or discounts) in exchange for a review is against the terms of service for some sites. If you do want to offer review incentives, make sure you read over the TOS carefully and ensure you're not doing something that could land you in hot water.
Make Sure Your Site is Search-Engine Friendly
Even with all the social presence and content in the world, some sites still won't rank well online. That's because they are set up in a way that search engines have trouble reading them or fitting them into their algorithms. If you want your site to rank well, you have to set it up properly from a technical standpoint.
We often call this process "On-site Search Engine Optimization." By optimizing your site for search engines, you make it more likely that the engine's algorithms can index it properly. The search engine can then direct more queries to your site, resulting in more traffic for you.
On-site SEO is a big field, and most of it is pretty technical. However, there are some things that even a layperson can handle so long as they have access to their website's back end. These things include:
Title tags under 65 characters for every page, preferably with a keyword or key phrase included.
Meta descriptions under 155 characters for every page, preferably with a keyword or key phrase included.
The use of heading (H1, H2, etc) tags on your pages in descending order.
Worthwhile content on every page, preferably at least 400 words.
Title tags and alt tags on every image on your site.
A variety of your important keywords in your content – but don't overdo it!
Another important part of making your site search-engine friendly is optimizing it for mobile visitors alongside desktop traffic. To learn more about how to make your site mobile-capable, read our recent blog post about mobile websites.
Research Your Competitors
Becoming more visible online doesn't just mean doing well – it often means doing better than your competition. To secure the top spots on search engines and get more visitors to your site, you should take a look at what your competitors are doing and then do your best to beat them at their own game.
There are plenty of tools and sites that let you snoop on your competition to see their online strategies. For instance, the Open Site Explorer is a great free tool that allows you to get the lowdown on some of your competitors' activities including where they get links from and how they structure their pages.
You'll also want to look at other factors like the amount of information they put on their site so you know what customers are responding to. Pricing details, product information, and other services are all areas to pay attention to. Don't restructure your whole site to mirror your rivals, but keep an eye on what works for them to get an idea of what might work for you.
Put Users Ahead of Search Engines
Above all else, it's important to make your site usable for the people that matter – your customers. Many business owners get caught up in designing a site to compete in search engine results without thinking about how people will actually use it. This is a sure road to problems. Your top goal should be making a site that is easy to navigate and full of useful, easy-to-understand information.
Now You Can Increase Site Visibility!
Sound like a lot of work? You're not wrong. That said, you don't have to do it all yourself. A skilled SEO partner like RankMonsters can perform the vast majority of this work on your behalf, letting you concentrate on what you do best – running your business. We've helped dozens of Oklahoma businesses achieve more visibility and more revenue from their websites. Why not make your site the next one?