Impact Your Mission
Using Google Ad Grants
If your organization is a registered 501(c)(3) nonprofit, you may be eligible for Google Ad Grants, a part of the Google for Nonprofits initiative. This special program gives nonprofit organizations access to $10,000 a month in free Google Ads to be used to increase their social impact and connect others with their cause. 
Google Ad Grants program has been serving nonprofits since 2003 and has awarded over 115K+ Ad Grant accounts since its conception.
Google Ad Grants work just like standard search advertising by displaying text ads alongside search results when people are using Google to learn, to find, to donate, and to connect with your organization and your mission.
Google Ad Grants extends the power of search advertising to eligible 501(c)(3) nonprofits at no cost. With $10,000 per month in free Google advertising, nonprofits can create meaningful ads to connect with target audiences in a relevant, actionable, and measurable way.
RankMonsters will help your nonprofit apply for and obtain the Google Ad Grant. We are a proud member of the Google Ad Grants Certified Professional Community, and we have extensive experience in maximizing the opportunities provided by the advertising. We turn your Google Ad Grant from a "nice to have" to a "must have."
We Can Help Your Nonprofit:
✔ Apply for the ad grant.
✔ Appeal suspensions or rejections.
✔ Ensure you keep the grant.
✔ Identify what messages are driving donations and recruiting volunteers.
✔ Turn search traffic into multi-channel marketing lists.
What would YOUR nonprofit do with up to $10,000 of free in-kind ad spend each month?
✔ Attract more donations
✔ Recruit more volunteers
✔ Promote events
✔ Build email lists
✔ Increase awareness
✔ Share their story across the globe
Monster Setup
FREE
For organizations that want to manage the ad campaign in-house but need help getting up and running.
Monster Power
$199 monthly recurring fee/$500 setup
Great for local organizations looking to share their mission with their community. Everything you need to make an impact and increase your online presence.
Monster Mission
$499 monthly recurring fee/no setup
Custom solution for organizations that have a competitive niche and/or a national/international focus.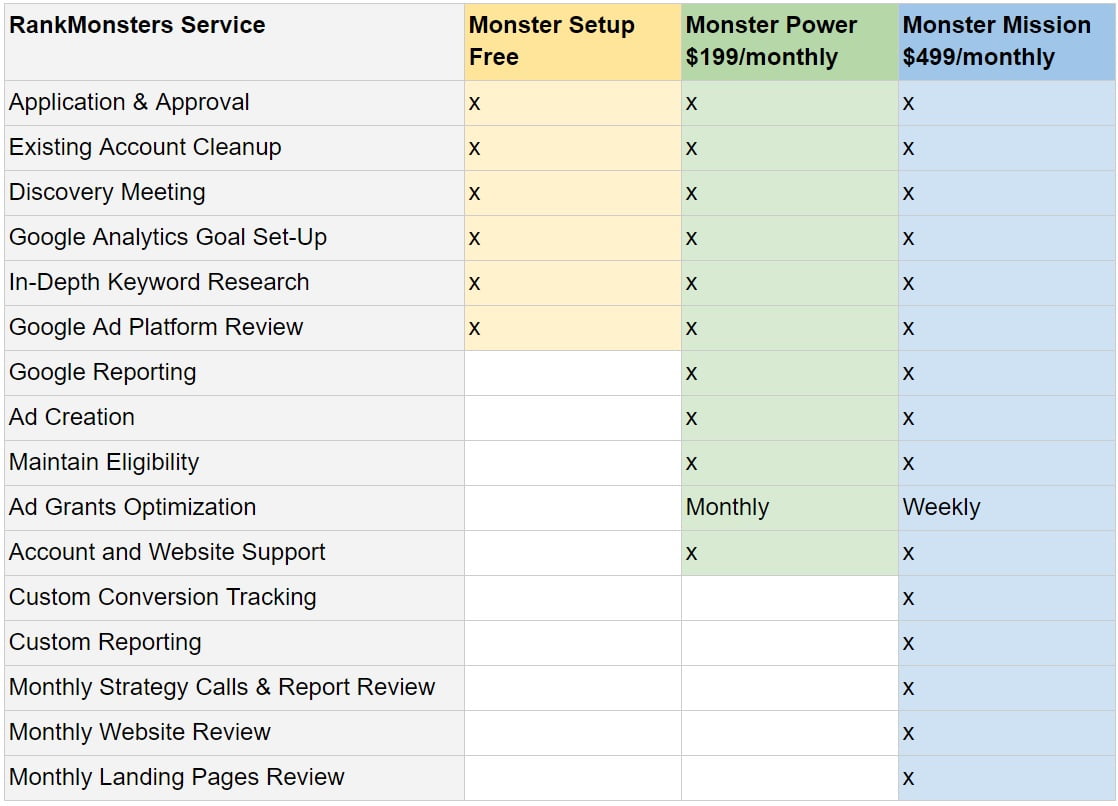 GOOGLE AD GRANT APPLICATION & APPROVAL
As Google Certified Partners, we'll apply for a $10,000 monthly recurring grant on your behalf to use on Google Ads. 100% of everyone we've applied for has been approved. With Google Ad Grants, you can increase your website traffic by 1,500+ targeted people monthly.
EXISTING ACCOUNT CLEANUP
This is for accounts that already have Google Ad Grants. This service includes working to lift suspensions, fixing errors in the account, identifying what is already working, and making improvements where we can.
DISCOVERY MEETING
We will conduct a phone and/or video meeting with your team to review your website and discuss your organization's goals in order to better inform our efforts.
GOOGLE ANALYTICS GOAL SET-UP
We will identify and implement basic conversion goals on your website to use for Google Ad Grants.
IN-DEPTH KEYWORD RESEARCH
We will identify the ways in which people search for your business and services so we can target them with highly relevant and compelling ads.
AD CREATION
Using our keyword research, we will create ad groups and ad copy specifically designed to reach your target audience. Your team will review, approve, and edit all ad copy before we publish it in Google Ads.
GOOGLE AD PLATFORM REVIEW
We will have a 30 minute video/screen share call with your team through Google Hangouts. During this call we will review your approved Google Ad Grants Account and walk through the back-end of the management platform together.
GOOGLE REPORTING
We will create a Google Data Studio for reporting and will provide you with a link that you can access at any time. This report will include data from your Google Analytics, showcasing your website as a whole and highlighting the specific details of your Google Ad Grants Campaign.
MAINTAIN ELIGIBILITY
Google has many requirements that must be met on a monthly basis in order to continue to be eligible for the grant and these requirements change on a regular basis. We have years of experience in dealing with these requirements that we utilize to maintain your eligibility and maximize the effectiveness of your Google Ad Grants.
AD GRANT OPTIMIZATION
We check in on your Ad Grant on a regular basis to optimize keywords, replace the lowest performing ads with new ad copy, implement automated processes, and identify new opportunities for improvement.
ACCOUNT AND WEBSITE SUPPORT
Access to our support team at any time during business hours with 24 hour response times.
CUSTOM CONVERSION TRACKING
We work with you to identify additional meaningful conversions on your website, such as tracking form submissions, getting directions, links to your affiliate websites, etc. We can handle all of the coding that needs to be implemented or, if you prefer, walk you through doing it yourself.
CUSTOM REPORTING
Within your standard Google Data Studio reporting, we can pull in the data for your Organic Search results (SEO), Paid Ad Campaigns, and a detailed breakdown of top performing landing pages and search terms.
MONTHLY STRATEGY CALLS & REPORT REVIEW
Regularly scheduled phone calls to review your account's performance and reporting, as well as discuss any optimizations we have identified that we believe could improve your Ad Grant.
MONTHLY WEBSITE REVIEW
We will check in on your website each month to ensure there are no broken or missing links and all contact and event information is current and up to date, as well as provide suggestions on how to improve your visitor's experience on your site.
MONTHLY LANDING PAGES REVIEW
We will examine underperforming ad groups and determine if new landing pages need to be created, as well as any other opportunities our team has identified that we can improve upon.
TERMS
RankMonsters is a full-service Internet Marketing Company. We require a 3 month commitment on all monthly services; after that, services are month-to-month. We do request a 30-day notice of cancellation, as we pre-plan efforts for our services. Upon cancellation of services, we remove all of our ad copy for proprietary and confidentiality purposes. However, we will leave an ad campaign with five ad groups in the account in order for the Ad Grant to remain in compliance and continue running during the transition of services.
 We are excited to work with your organization. Please complete the form below. We will contact you within 24 hours to get started.