Creating a nonprofit is such an amazing way to make a positive impact within your community and the world at large. Whether you are working to create equal access to advanced medicine, enriching the culture of your hometown, and online community with amazing independent films, helping those who have been impacted by natural disasters one thing never changes. You need to get your services out in front of as many people as you can. That's exactly what the Google Ad Grants program does!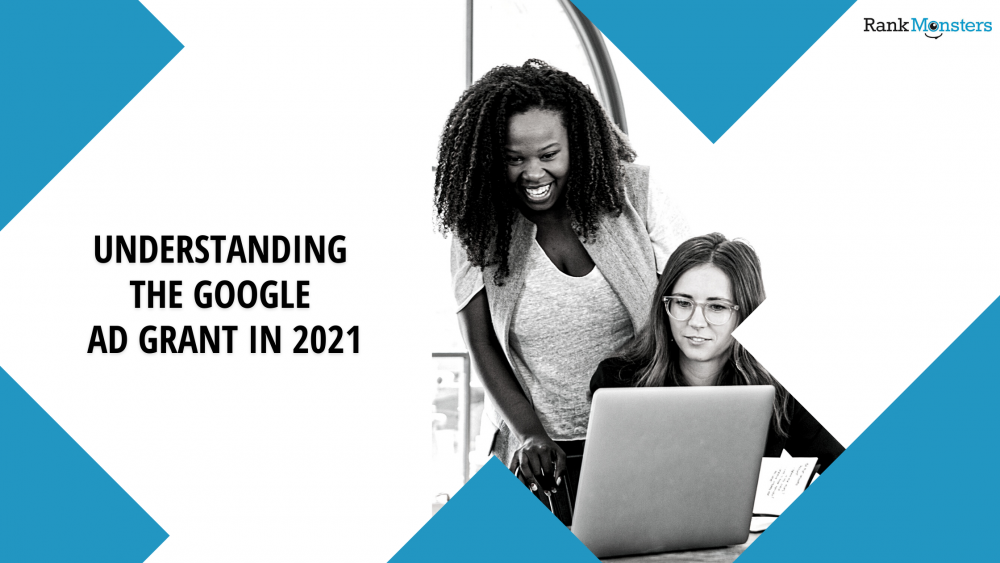 What Is The Google Ad Grants Program?
Google Ad Grants provides you with access to $10,000 USD for your nonprofit to spend on digital advertising every month. This allows you to get out front and center so you can expand your reach. Whether you need volunteers, donors, or simply some help raising awareness for your social cause, Google Ad Grants is an opportunity that shouldn't be dismissed.
Is Google Ad Grants Worth It?
Simply put, YES! Google Ad Grants provides you with the funds needed to reach those that may never have had the opportunity to hear your message for FREE.
This is a no strings attached process in which you just simply need to apply. Not only do you receive $10,000 USD a month in in-kind advertising, or approximately $329 per day, in in-kind advertising credit to use on the Google Ad Platform.
You also get free access to Google's G Suite program. Which allows you to manage your information and communicate with members of your team securely and efficiently.
How To Qualify for Google Ad Grants
In order to be eligible to participate in the Google Ad Grants program, your organization must meet the following requirements:
Your organization must apply for and obtain a Google for Nonprofits account.
Your organization must be registered as a charitable organization. Oftentimes this is a 501c3 certification, but depending on the country you operate out of, it may require a different registration type. You can view the countries in which Google for Nonprofits is available, as well as the country-specific requirements, on Google's support hub.
Your organization must be registered with TechSoup.
Your organization must not be a hospital or a governmental or healthcare institution. Schools, universities, and academic institutions are also not allowed, but not to worry; Google offers their Google for Education program to provide support for schools.
Your nonprofit must agree to the application's required certifications regarding nondiscrimination, donation receipt, and use.
Your nonprofits must not discriminate on any unlawful basis in either hiring/employment practices or in the administration of programs and services.
Your mission must not discriminate on the basis of sexual orientation or gender identity in hiring/employment practices.
You must agree that your nonprofit's mission will not negatively impact Google's current or future ability to do business with your organization.
You will need to guarantee that any donation your nonprofit receives will not be used to corruptly influence any government official to obtain or retain business or any improper advantage.
Your organization must have a high-quality website as defined by Google. Some of these requirements are:
No broken links
Mobile friendly
Fast loading times
A valid SSL certificate installed
Substantial and unique content that clearly defines your mission and values.
Running into issues with applying for TechSoup or Google for Nonprofits? Reach out to us; we'll handle the entire application process for you at no charge.
New Application Process
Joining Google for Nonprofits has never been easier. Just this year, Google updated the entire process so that nonprofits wouldn't have any issues or unnecessary hoops to jump through. Now, all you need to do is submit the Ad Grants eligibility form. Once approved, submit your activation request and you're good to go!
Ad Grants Management
The application process is the easy part. The next challenge is the creation and maintenance of ads and your account in general, which means you may spend more time than you want to maintaining your account.
Ad Creation
The Google Ad Grants provides $10,000 monthly in what is called Text Ads, which is exactly as it sounds: ads made up of text. This means you have to create a variety of custom ads using the information on your landing pages that will appeal to your target audience and that will link back to your site. This information should be updated on a regular basis. In addition to maintaining your ads, you'll want to monitor what works and what doesn't and replace low performing ads.
Account Compliance
Once your ads are up and running, the last piece of the puzzle is ongoing account maintenance. Google has an extensive list of benchmarks and requirements all Google Ads accounts must follow, as well as Ad Grants specific policies that your account must continue to maintain, such as:
Having a well-structured ad account that has correct location settings that match your target audience, at least 2 active ad groups per campaign, and at least 2 unique sitelink ad extensions.
Maintaining a 5% click-through rate each month.
Implementing conversion tracking to track meaningful conversions, such as phone calls, form submissions, and donations.
Using conversion-based Smart bidding for all campaigns.
Not using single-word, low-quality, or generic keywords.
These guidelines are continuously updated and, unless you stay on top of them, can easily lead to frustration when ads get disapproved for seemingly no reason. If disapproval issues are not fixed in a timely manner, it can lead to the entire account being suspended, so it's vital that you are aware of the policies and any updates that occur.
Google Ad Grants Certified Agency
While Google Ad Grants is a free service, Google also understands that staying in compliance and optimizing the Ad Grant is a time-consuming process.
Thus, Google put together a group of certified professionals to help you maintain your Google Ad Grants. There are a total of 45 agencies that are certified by Google to oversee Google Ad Grants for nonprofits.
Fun fact: RankMonsters was one of the original nine companies asked to join this program by Google
The best way to optimize your Ad Grant in 2021 is to optimize your site by implementing SEO practices, which is exactly what RankMonsters does.
How RankMonsters Can Help Your Nonprofit!
Maximize Your Exposure
The Google Ad Grant allows your ads to show up at the top of search results for your main keywords. With this program you can increase your online exposure and appear in front of your target audience any time they are searching for your services.
Advertise Services & Products
The Google Ad Grant lets you advertise your nonprofit's services and products to searchers online. Using the Ad Grant, you can reach a much wider audience of motivated searchers with advertisements targeted to the keywords they are looking for.
Connect with Donors
The Google Ad Grant allows you to reach out to potential donors and volunteers online. With this program you can target ads specifically to donors looking for nonprofits to assist or to volunteers looking for an organization to work alongside.
Advertise Events
Google Ads makes it easy to advertise events and special occasions without expending extra funds. The Ad Grant even allows you to target your ads to people seeking events or activities in your location to help increase attendance and reach more people.
Increase Brand Awareness
Using the Google Ad Grant, your ads can appear in searches broadly related to your services. This can allow you to increase awareness of your organization and brand among the general public, or to build interest in one part of your organization's offerings.
Receive Valuable Data
When you use Google Ads, you receive valuable data about the people searching for your keywords and clicking on your advertisements. This data makes it easier to target future ads, and it also provides valuable insight into your online audience.
To learn more about our services and how we can partner with you to achieve your goals, call us today at 405-605-8218 or send us a message online!