Last week, Google began to roll out a new feature for desktop searchers. When you search for a local business or feature, such as restaurants, bars, parks, or pools, you'll see a "carousel" of results in a black bar at the top of the page. And while these features have been available to some mobile users since December, their presence on desktops is a much bigger deal. These results, complete with name, address, and often a picture, are poised to shake up the game of local searches for businesses everywhere. So lets learn more about how Google's Knowledge Graph Carousel changes the look of local search.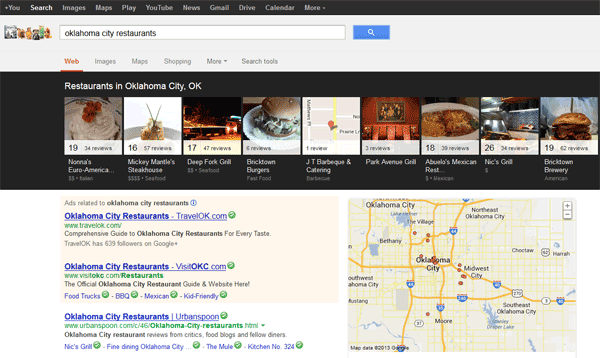 How Does Google's Knowledge Graph Carousel Affect My Business? 
So what does this have to do with you and your business? Well, it's pretty clear that having your business show up in the carousel results is a good promotional tool – it makes you immediately visible to a wide range of local searches, and puts your name at the top of the search results. Add in the factor of novelty – the carousel is a new and eye-catching feature, and people will pay attention to it – and you can see why being a part of those results could be a big boon to your brand.
Getting My Business On Google's Carousel
Of course that leads to the next question – how can you ensure that your business shows up in the carousel? First off, you need to be listed in Google Places. If you don't have a places listing, your business won't show, no matter what. Go to the Google Places signup page to complete this step, if you haven't already.
Is Google My Business Profile Complete?
Beyond that, you want to make sure that your Google Places profile is as complete as possible. Add photos of your business, links to your social accounts, and as much profile information as you can. Also encourage your customers to review your business online (perhaps by offering incentives for reviews!). All of these steps will help your business show up more in the carousel results.
How Is Your Site Doing?
And beside your Google account itself, you also want to make sure your website ranks high in organic search results. Managing your page well and building strong links from other local sites can help dramatically in this respect – the more reputable your site seems to Google, the better your rank results will be. You can also help this along by updating your site regularly with strong, quality content. A strong local SEO strategy will work wonders here, especially backed by a good showing on Google Places.
How Can RankMonsters Help?
Hopefully you now understand how Google's Knowledge Graph Carousel changes local search results. Google's local carousel could be a huge asset to your business, but only if you take advantage of it. Of course, if you want a hand with managing your online presence, you can always contact us at RankMonsters – we're experts in boosting your local search ranking, and we would be glad to help get your business to the top. Contact us today for more information.