Search Engine Optimization (SEO)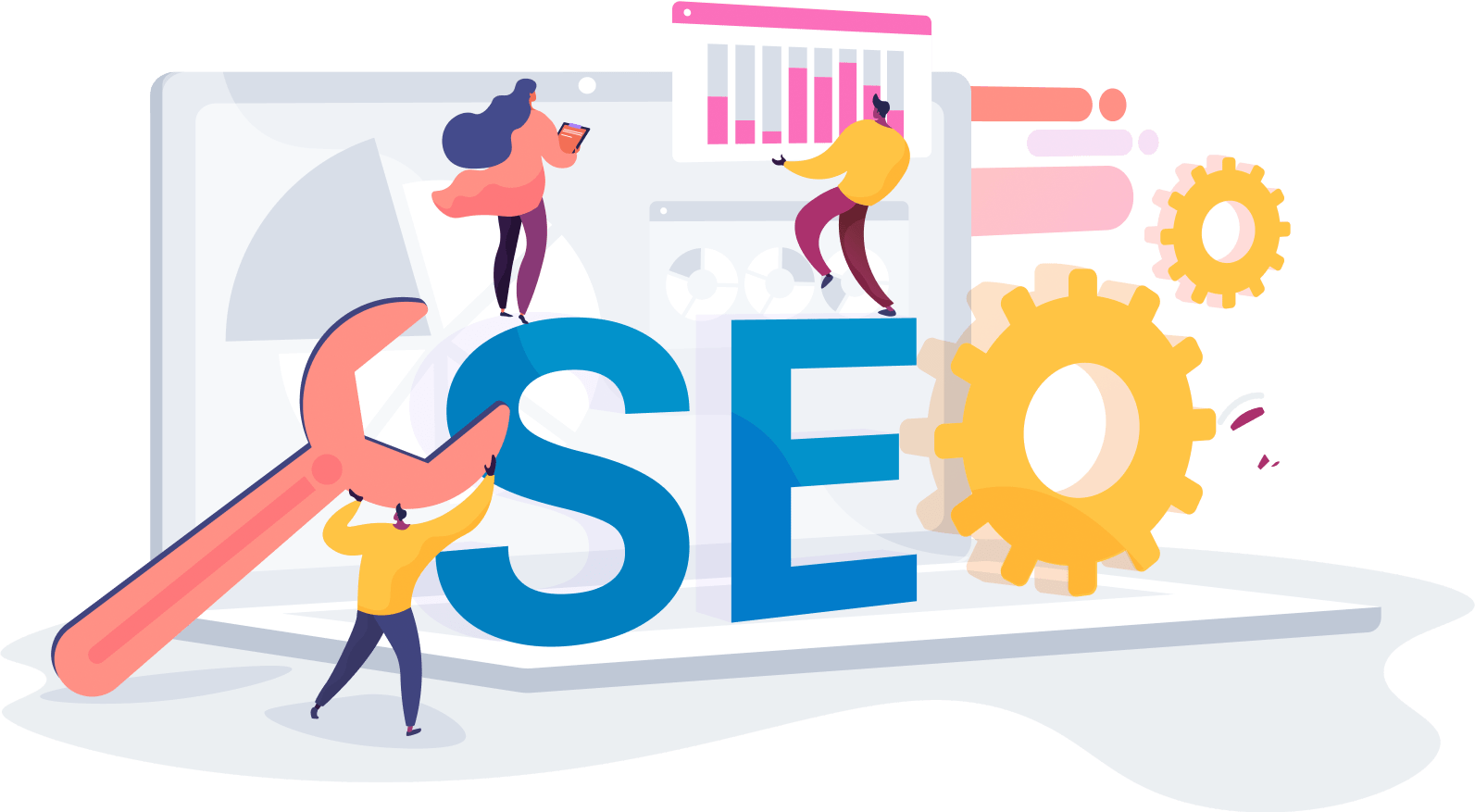 NO MORE SEO NIGHTMARES!!!
RankMonsters provides SEO for Nonprofits. As an experienced SEO company, we know how to get results. Our company started in 2011 as a dedicated SEO agency. We've created a SEO strategy that works – GUARANTEED!
SEO is the practice of making changes to a website to help it perform better in organic search results. There are many components of SEO, from making changes to a website's code and architecture, to updating and improving content, to building links and citations around the web.

Organic Rankings
When someone searches for keywords related to what you do, can they find your website easily? We help you get listed and gain higher organic rankings on Google, Bing, Yahoo, and other search engines. 1st page rankings!


Local Map Listings
Local search is one of the fastest-growing markets for small businesses and organizations. If you serve local clients, map listings can improve your visibility and provide a place for your clients to leave reviews and other information.


More Inbound Leads
When your organization is visible online, motivated people can find you and contact you all on their own. Instead of relying on outreach, SEO can generate inbound leads simply by making your organization and services easier to find.
RankMonsters
SEO for Nonprofits
Monster Mission is our best seller and our comprehensive strategy for getting amazing results with meaningful conversions. This package includes Ad Grants Management and full SEO services. Maximize Ad Grants and DRAMATICALLY improve organic traffic.
Google Ad Grants Management
SEO
Monthly Reporting
What we do to get SEO results for Nonprofits:
Leverage Pro SEO Tools

Track Conversions from Organic Traffic

Embed Structured Data on Your Web Pages

Keyword Research & Campaign Strategy

Search Engine Friendly URL Architecture

Generate New Content for Google to Love
Smart Keyword Placement on Web Pages

Test Web Page Titles & Descriptions

Optimize Images for Fast Loading on Mobile

Finesse Internal Linking Structure

Build Backlinking Profile

Submit Sitemap to Google & Bing
SITE AUDIT
After setting up Google Analytics and Webmaster Tools, our team performs an in-depth audit of your website. This will help us identify potential problems and issues with your site, such as:
Visibility Issues
Visibility issues prevent important pages of your website from appearing in search engine results or returning a proper response when a person (or robot) visits it. Fixing these issues allows more pages of your site to show up in search results and be cached by search engines.
Metadata Issues
In addition to text content that human visitors can see, webmasters can also add text that is specifically for search engines. Metadata, including website page titles and meta descriptions, works behind the scenes to provide search engines with information that will either help them understand the page's focus or correctly display the page in search results.
Some examples of metadata issues include:
Page Titles: The page title generally becomes the link that appears in search results for your page. Your page title should contain the keywords that best convey the focus of the page without stuffing or repeating terms, and shouldn't be longer than approximately 60 characters.
Meta Description: The meta description tag is very important to your page's click-through rate (CTR). The meta description usually appears directly after a search result link as a summary of the page's content. An optimized meta description should be written as a call to action and contain at least one of your target keywords. Much like in the page title, Google will bold the terms in the meta description that match the query. It is recommended that you use unique meta descriptions throughout your site and keep them to 140 characters or less.
CONTENT ISSUES
The content on your website is an important part of your website's overall search engine rank. It is very important that you do not upload content that duplicates content found on other websites.
Some examples of content issues include:
Low word Count: "Low word count" doesn't mean it's time to stuff your page full of keywords. Instead, think of how you can enhance the value of each page with content that is a valuable resource that can help someone make an important decision. In general, each page should have at least 400 to 500 words. Many of the highest-ranking pages on Google have more than 1500 words. In many cases, search engines see longer pages as more useful to users and rank them accordingly.
Duplicate Content: Duplicate content can be a very serious SEO problem if not addressed. If you have content on your site that is "copy-pasted" from another site, this can negatively impact your rankings and earn you penalties from search engines. Fixing these issues may require you to make decisions about your website's page content, page titles and even its entire information architecture. Remember to optimize for your audience first. Duplicate or low-quality content can send the wrong signals about your brand to both human visitors and search engines.
LINK ISSUES
Broken links on your website may send negative signals to search engines. Broken links are not to be confused with backlinks or external links. Check for broken images and "nofollow" links on your website and correct every issue you can.
SEMANTIC ISSUES
The semantic structure of your site is just as important as the content for achieving higher rankings. Structure includes content headings and subheadings and the overall "flow" of your site. Headings, specifically H1 headings, are believed to strongly signal the architecture and theme of a page to search engines.
IMAGE ISSUES
Google uses text to identify the contents of an image. The file name, ALT text, title text and surrounding text are all clues that help images perform better in searches. Without this data, your page may not rank as well.
ON-PAGE SEO
After our site audit, RankMonsters will edit and optimize all main pages on your website using the keywords and data we uncovered in the beginning of your campaign. Our site audit lays the groundwork for your campaign; the On-Page Optimization phase is when that groundwork becomes vital.
On-Page Optimization allows the search engines to "read" your website and rank it in search results. Search engine algorithms and ranking factors change over time. We must regularly adjust and update our optimization strategies and techniques to get the best online results.
Optimizing your website's images, text, and code to bring them in line with best practices. Optimization also lets your site take advantage of the keyword research, competitor research, and site issue research we performed during our initial site audit.
Creating titles, descriptions, and other metadata that reflects the research we performed and helps your site be more visible in search results.
Repairing any initial site issues we discovered in your website audit, including issues with website code, site speed, and content.
Recommending, as required, additional web pages or on-page content for the purpose of "catching" keyword/phrase searches.
SITE BASELINES
Along with our research into site issues, we also record baselines for several important metrics on your website.
Some examples of site baselines include:
How many users (individual IP addresses) visit your website each month and the number of sessions (visits).
The average number of pages the users visited, number of pageviews, and average duration of time spent on you website.
Your bounce rate – the number of users who visit a single page on your site and then leave without visiting other pages.
The number of new visitors versus return visitors.
The keywords your site is currently ranking for in search engines, and how well the content is optimized to achieve rankings. We use this data to develop a plan for site content creation and optimization later in your campaign.
The links coming in to your site from the rest of the Internet. Links from authority or high-traffic sites can be good for your campaign, but low-quality and broken links can send negative signals that impact your rankings. Our link profile research helps us determine what links we need to clean up or earn later in your campaign.
KEYWORD RESEARCH
RankMonsters researches your industry online to see what keywords people are searching for to find your organization or service. RankMonsters' keyword research techniques use your page content, industry information, and data from competitor sites to develop a list of useful keywords and related search terms for your site. We then organize these keywords into groups, and we use these groups to optimize content on each page of your site effectively. These groups also form a strong base for any paid search advertising or social media advertising campaign.
By researching keywords, we gain insight into your website, into your organization and industry. With good keyword research, we can:
Curate the content, metadata, and links on your site to catch more online searches and attention.
Use those keywords to create more targeted and useful paid search engine advertisements, blog posts, and social media posts.
Determine if your website could benefit from new pages or page content. For example, if one of your industry-related keywords has high search volume but your site doesn't have content related to that keyword, we could add a page on your site to "capture" traffic for that search term or keyword.
CONTENT CREATION AND REVISION
One of the most important parts of your website is the content on the page – the text, images, and links that your visitors interact with. It's important for your website to have engaging, relatable content to keep your visitors interested. RankMonsters has a dedicated content team that can help you craft and post high-quality content on your website that captures your voice and style. Whether you need simple edits to your existing content or entirely new sections of your website, we can help.
Our team will develop and post new content or edit existing content on your website. This includes researching your industry to ensure professional and accurate content and quality, as well as performing keyword research to make sure your content can perform well in organic searches. We will send you all content for approval before posting it to your site and will make as many revisions as necessary to ensure you are satisfied.
LOCAL CITATIONS
Citations are a vital part of your SEO portfolio. They play a key role in helping your business or organization be found online. Citations can include any listing or profile featuring your business on the web, including profiles on Google My Business, Yellow Pages, Yelp, Facebook, and many more. It is important to have access to every citation so that we can update and/or remove information when changes occur. Search Engines look for consistency across all listings, so if there is misinformation (wrong name, address, phone number, or website URL), it will hurt your SEO efforts.
CITATION AUDIT
One of the most common problems for businesses and organizations with an online presence is incomplete, incorrect, or contradictory citations. In order to rank well on Google and other search engines, your citations need to be consistent. However, many businesses have:
Incorrect or outdated addresses
Incorrect phone numbers
Multiple or incorrect business names (eg. YourBusiness vs. YourBusiness, Inc)
Outdated or incorrect URLs
These problems can cause your search engine rankings to drop, and they can also cause confusion and frustration for potential customers.
RankMonsters' Citation Audit service finds these incorrect and inconsistent citations online and presents them to you in an easy-to-digest format. We will perform research to find active profiles for your business or organization on Google, Facebook, Bing, Yahoo, YellowPages, Yelp, Angie's List, and numerous other listing and citation sites. A proper citation audit is the first step in cleaning up your presence online and boosting your rankings and results.
CITATION CLEANUP
After your Citation Audit, the next step is to clean up and resubmit any incorrect or inconsistent information. This step involves claiming unclaimed or outdated profiles and deleting duplicate or irrelevant listings. We will consult with you to determine the most correct and relevant information for your citations, and we will also write and collect additional information such as profiles, photographs, and logos. We also work with listing sites, webmasters, and social media sites to gain access to unclaimed and unmanaged profiles.
Our Citation Cleanup service ensures your presence is unified and consistent across the web. This will make your website more search engine-friendly, and it will also help your clients find you and contact you when they need your services.
CITATION BUILDING
Along with cleaning up incorrect citations, RankMonsters will also build and place new citations on important and highly ranked business listing and social media sites. This will ensure your business is easy to find online and it will allow you to solicit and collect reviews and ratings on a variety of sites. We regularly review the opportunities available for your site and make sure your current listings are up-to-date. Over time, citation building can be one of the most effective ways to improve your presence and visibility in search engines. Also, we will claim and optimize profiles used for Voice Search with Siri, Google Home, and Alexa.
We use a combination of citation placement services such as Yext and manual placement. There are 3 main citation aggregators that we use for the manual citations to clean up and/or claim new listings. We then go one by one, contacting each site webmaster to get access to the profile and/or place a new profile. 
GOOGLE BUSINESS POSTING
Posting through Google My Business lets you publish your services directly to Google Search and Maps. By creating posts, you can place your timely text, video or photo content in front of customers when they find your business listing on Google. This, in conjunction with posting on a regular basis, helps increase your placement within the Google Map Listings.
LINK BUILDING
In addition to building links from citation sites and networks, RankMonsters will also work to earn links from other related or high-value websites. We identify the sites we want links from by looking at pages linking to your competitors or to related high-ranking websites in your industry. We then submit your website or content relevant to your website in order to earn a link back to you. This is an ongoing process that requires considerable monitoring and research. We will also detail all links earned from our efforts in your monthly Internet Rankings report.
REPORTING
We build our campaigns and our reporting based on conversions. We use Data Studio for reporting and will provide you with a link that you can access at anytime to see your report in real-time. Also, each month we will send you a detailed progress report showing your campaign results and any changes we make.