Google Ads & the Google Ad Grant
RankMonsters will help your Nonprofit apply for and obtain the Google Ad Grant. We are Google Certified Partners, and we have extensive skills and experience in maximizing the opportunities provided by the Grant.
We are a proud member of the Google Ad Grant Certified Professional Community. As one of the 41 certified agencies Worldwide, you can be sure our work is high-quality and recognized by Google.
If your organization is a registered 501(c)(3) Nonprofit, you may be eligible for the Google Ad Grant program. The Google Ad Grant program is a part of the Google for Nonprofits initiative. This special program gives nonprofit organizations access to $10,000 a month in in-kind advertising credit to use on Google Ads. RankMonsters works with Nonprofits in the US and Canada.
You've seen Google Ads in action, even if you don't realize it.
Google Ads is Google's native advertising program. Using Google Ads, you can place text advertisements for your organization or services above search results in Google. Advertising allows your ads to appear alongside search results for popular search terms in front of tens of thousands of searchers.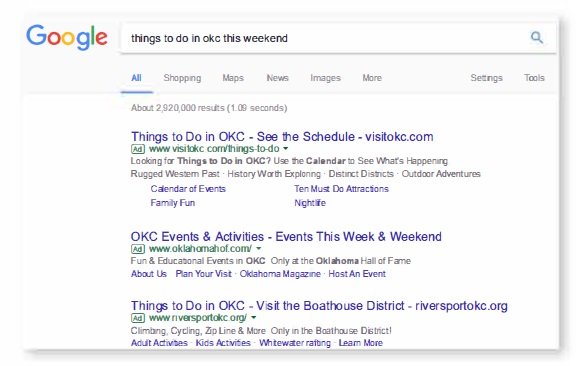 Maximize Your Exposure
The Google Ad Grant allows your ads to show up at the top of search results for your main keywords. With this program you can increase your online exposure and appear in front of your target audience any time they are searching for your services.
Advertise Services & Products
The Google Ad Grant lets you advertise your nonprofit's services and products to searchers online. Using the Ad Grant, you can reach a much wider audience of motivated searchers with advertisements targeted to the keywords they are looking for.
Connect with Donors
The Google Ad Grant allows you to reach out to potential donors and volunteers online. With this program you can target ads specifically to donors looking for nonprofits to assist or to volunteers looking for an organization to work alongside.
Advertise Events
Google Ads makes it easy to advertise events and special occasions without expending extra funds. The Ad Grant even allows you to target your ads to people seeking events or activities in your location to help increase attendance and reach more people.
Increase Brand Awareness
Using the Google Ad Grant your ads can appear in searches broadly related to your services. This can allow you to increase awareness of your organization and brand among the general public, or to build interest in one part of your organization's offerings.
Receive Valuable Data
When you use Google Ads, you receive valuable data about the people searching for your keywords and clicking on your advertisements. This data makes it easier to target future ads, and it also provides valuable insight into your online audience.
More on Google Ads & Google Ad Grant
Once I am approved for the Google Ad Grant, how much is it going to cost me to manage the campaign?
Applying for the Google Ad Grant is a FREE, no obligation service.
Once approved, you can can choose to have RankMonsters create, maintain & maximize the Ad Grant Campaign or you can manage the campaign on your own. RankMonsters charges a monthly management fee to create, maintain & maximize the Ad Campaign once approved. Because the $10,000 monthly Google Ad Grant is a credit, your organization will be responsible for our monthly management fee. Our no contract month-to-month services makes it easy for you to get started.
Increase your visibility on Google today!
RankMonsters Grant Management Services
Discovery Meeting
Our team will meet with yours to discuss your online goals and objectives. We'll work with you to structure your campaign in a way that generates the results you want from your Ad Grant.
Keyword Research
We perform detailed keyword research to find out how people are searching for your organization or your services online. We will then use these keywords to design targeted advertisements and to update the content on your website to capture searches and conversions.
Campaigns & Ad Groups
To capture the most searches online, we will structure your Google Grant with multiple Campaigns and Ad Groups. This helps gain more online visibility and lets us better maximize your budget.
Ad Content Creation
Our in-house content creation team will create text-based ads that meet the quality guidelines. Our ads are designed for high quality score and clickthrough rates. We will send all content to you for approval before it runs online.
Content Creation & Landing Pages
One of the most important parts of a successful advertising campaign is where your visitors end up when they click. A good landing page helps your ads perform better and keep visitors on your site. We offer content creation services to help make your landing pages perform better, as well as landing page design to improve their look and feel.
Campaign Adjustments
Ad Grant campaigns need regular adjustments and modifications to perform well. We monitor your Ad Grant campaigns and make any adjustments they need in order to perform as well as possible.
Reporting
Each month we will send you a progress report detailing the work we completed. Our reporting includes details about the visitors to your website, the content that is performing well, and keywords your website is ranking for in search engines.
RankMonsters Ad Grant Management $499+/mo.
Applying for the Google for Nonprofit Membership & Google Ad Grant
Ad Grant Management
Maintain Grant Eligibility
Reporting
Rural Area or Niche Focus?
Ask about our discounted pricing.
We are excited to work with your organization. Please complete the form below. We will contact you within 24 hours to get started.
*Applying for the Google Ad Grant is a free service offered by RankMonsters. Completing this form is not a commitment to use our management services.