One of the most important parts of building your online presence and making yourself more search-engine friendly is creating content that search engines can see. Blog posts are a perfect way for a website to build their content profile and provide quality information to users. However, most of us aren't writers, and writing a blog is as easy as writing a book. Where do you start?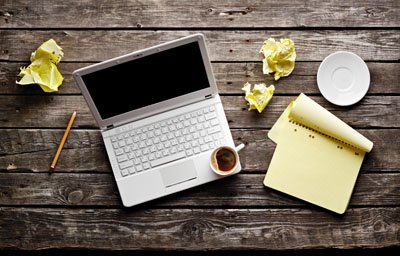 The first and most important step for every blog post you write is to find or create a message that you want to convey to your readers. Never go into a writing project empty-handed – you should always have a goal for each post beyond your SEO campaign. In other words, you don't want to be writing solely for the purpose of creating fluff content. Try to teach your audience something or give them relevant news.
So, for instance, imagine that you are the owner of a watch store. Your ultimate goal, obviously, is to sell more watches. But if every blog post you write is just a sales pitch for your store and your watches, nobody will ever read it. Instead, use your blog as a space to educate and entertain. Tell about the history of a specific feature or model of watch, write about interesting products and technologies related to your field, and so on. Blogs are a great place to experiment and use your own knowledge to promote your brand.
After you've found your message, you need to research. Many people feel that, as an expert in their particular field, they can write a blog post about their topic using nothing but the information in their heads, and they'll be fine. And sure, you can end up with an interesting, readable piece – but likely it'll be very similar to something that someone wrote elsewhere. Research is vital because it lets you see where you can be differentand really stand out from the crowd.
Once you've done your research, you write. Lots of SEO writers try to shoot for 350 to 500 words on a post, but some will tell you that you need more to get good search returns. In truth, it doesn't matter exactly how long your post is. What matters is the quality – if the blog is worth reading. You could write 350 or 500 or 1000 words of drivel, and it will still be drivel at the end of the day. However, if you write a quality article, chances are someone will see it and link back to it, no matter how long it is. Quality trumps quantity (of words) every time.
Fourth, edit! Proofread your work, and then get someone else to proofread it, too. Nothing detracts from your post like simple spelling and grammar mistakes. There is virtually no cost to cleaning up your writing and checking over your post, so make sure you proof your writing before putting it online.
Finally, take the time to respond to your readers. Blogs aren't like books – they're living documents, and people will read and respond to them for as long as you have them online. If someone posts a comment, take the time to read it and reply if necessary. Creating a good discussion with your readers will boost your traffic and encourage others to comment, too, making it more likely that people will keep reading. But at the same time, make sure to curate negative comments and spam – those things can crop up like weeds, and will detract from the overall experience of your blog.
With these steps in mind, writing a blog becomes as simple as finding an idea and fleshing it out. Don't be afraid of blogging. Embrace it and learn to love it – your rankings will thank you for it.